OEM Division
Super Talent's OEM Division is dedicated to supporting the specific memory requirements of OEM customers.
Headquartered in San Jose, California, Super Talent designs and manufactures Flash based storage devices for computers and consumer electronics. The company offers a full range of OEM products and services.
Engineered in Silicon Valley
Counting twenty years of memory industry experience, Super Talent relies on technical research and its commitment to product development to deliver leading edge memory products to the market. Remaining at the fore-front of today's fast paced evolution in technology, Super Talent holds multiple patents on DRAM and Flash module design as well as on manufacturing processes. In fact, Super Talent is ranked among the top memory solutions manufacturers in terms of total patents applied under memory device categories.
State-of-the-Art Manufacturing
Super Talent utilizes advanced technology and leading-edge components to produce high quality products with outstanding reliability. With twenty-two SMT manufacturing lines in US and Shen Zhen China, our production facility stands as one of the largest and most advanced memory module production facilities in the memory module industry.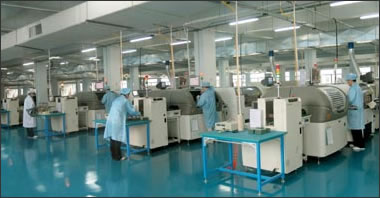 Shen Zhen
Quality Assurance
Every memory product we produce is subject to essential hardware and software testing standards for consistency and functionality. Our memory modules are rigorously qualified in Super Talent's compatibility labs, and are then tested and approved by many top motherboard manufacturers. Our intensive quality control and testing procedures are designed to ensure the highest possible product quality.
Service and Support
Super Talent's mission is to provide customers with the most innovative and reliable technology solutions to meet their data storage needs. With the headquarters in the Silicon Valley, Super Talent provides customers a competitive advantage by strengthening their performance, increasing efficiency, and reducing costs. Super Talent is a service oriented company and strives to find customers the most optimal solutions based on their goals. We have a wide range of customized business technology solutions to choose from. Our flexibility is reflected in four major business functions, such as, design, manufacturing, testing, and logistics. We bring many years of experience in working with small business as well as large multi-national corporations and government agencies.
---

Design
Super Talent designs are produced by a talented team of Silicon Valley engineers to satisfy most customers' data storage needs.

Manufacturing
Super Talent uses state-of-the-art ISO 9001 certified technical equipment and leading-edge components to manufacture it's memory products.

Testing
All Super Talent products are rigorously tested for quality within our own labs and then tested and approved by top motherboard manufactures and other industry partners to assure compatibility.

Logistics
Super Talent logistic services are very flexible to meet various customer needs that include retail and bulk packaging, procurement, inventory management, transportation, and more.