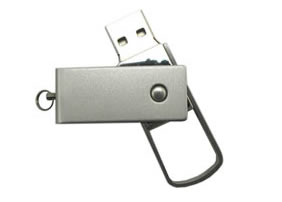 1

2
SWR
Matte metal finish with swivel casing design.
Features
Compatible with USB 2.0 and 1.1
Supports password protection
Capacities:
4GB - 64GB
Printable Area:
13 mm x 23 mm
Dimension:
45mm x 16mm x 6mm
Technical Details:
- Full compatibility with USB 1.1 and 2.0
- Hot plug and play; Functions like another hard drive
- Supports password protection
- No driver needed for most operating systems (Windows 98SE driver available online)
- LED indicates power, busy
DISCLAIMER: Actual usable memory capacity may vary. 1MB equals 1 million bytes; 1GB equals 1 billion bytes.