Super Talent PICO USB Drives Enter Mass Production
Slim, Stylish & Smart Mobile Storage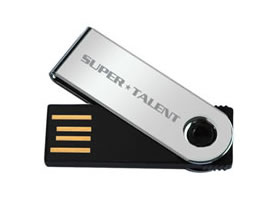 San Jose, California – November 6, 2007 -- Super Talent Technology, a leading manufacturer of flash storage solutions and DRAM memory modules, today announced that the company's new PICO series USB Flash drives have moved into mass production.
Super Talent's new PICO series USB drives are manufactured using chip-on-board (COB) technology, meaning the unpackaged Flash die is bonded directly to the printed circuit board (PCB). COB technology enables Super Talent to fit up to 4GB of Flash storage in an incredibly small and slim case. PICO-A drives measure merely 38.7mm x 12.4mm x 3.9mm, and weigh less than 5 grams.
The new PICO series is notable not only for its ultra-small size, but also for its fascinating style. The first two products in the PICO series both have polished chrome steel exteriors. PICO-A, shipping in volume now, has a swivel chrome lid. PICO-B is a retractable slide-open drive that will be shipping in volume by late November.
| | |
| --- | --- |
| Part Number | Description |
| STU1GPAS | 1GB PICO-A, Chrome Swivel lid |
| STU2GPAS | 2GB PICO-A, Chrome Swivel lid |
| STU4GPAS | 4GB PICO-A, Chrome Swivel lid |
| STU1GPBS | 1GB PICO-B, Chrome, Retractable |
| STU2GPBS | 2GB PICO-B, Chrome, Retractable |
| STU4GPBS | 4GB PICO-B, Chrome, Retractable |
"We designed PICO USB drives to be small, stylish and smart looking", commented Super Talent Marketing Director, Joe James. "PICO drives bring new levels of smallness and elegance to USB storage, making these drives more like a fashion accessory than a computer peripheral", added Mr. James.
All Super Talent USB drives are backed with a lifetime warranty. Approximate street prices on the 2GB and 4GB PICO-A drives is $25 and $45 respectively.
_________________________
Super Talent Technology Corporation designs and manufactures a full range of DDR, DDR2, and DDR3 memory modules and Flash based storage devices for computers and consumer electronics. Based in San Jose, California, Super Talent utilizes its state-of-the-art factory and leading-edge components to produce award winning products with outstanding reliability. Super Talent is an active member of the JEDEC and ONFI standards bodies, and holds over 160 patents in Flash and DRAM technology.
All trademarks are property of their respective companies. Pricing is approximate as of announcement date, and is subject to change without notice.
_________________________
Product Details: /products/stt_usb.php

Press Contacts:
Amy Deng
Marcom Manager
Super Talent Technology
Direct: 1-408-934-2591

amy.deng(at)supertalent.com

Joe James
Marketing Director
Super Talent Technology
Direct: 1-408-934-2576
joe.james(at)supertalent.com