Super Talent Updates its 1.8" MasterDrive KX3 SSD
Highly popular space saving SSD with a microSATA connection
San Jose, California – July 28, 2014 – Super Talent Technology, a leading manufacturer of NAND Flash storage solutions, announces their updated MasterDrive KX3, a 1.8" SSD.
Super Talent's MasterDrive KX3 comes in to solve the problem of physical space constraints in a computing system. This SSD is built using high grade NAND flash components and is connected through a microSATA interface. Additionally, an industrial temperature version using carefully selected thermal range components allows the MasterDrive KX3 to handle temperatures ranging from -40°C to 85°C.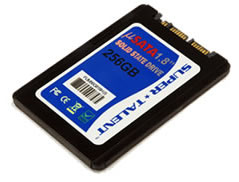 | | | |
| --- | --- | --- |
| Capacity | Part Number | Part Number (I-Temp) |
| 32GB | FUM32G818H | FUM32G818I |
| 64GB | FUM64G818H | FUM64G818I |
| 128GB | FUM28G818H | FUM28G818I |
| 256GB | FUM56G818H | FUM56G818I |
The MasterDrive KX3 is highly popular for data logging in a variety of environments with sequential read speeds of up to 250 MB/s and write speeds of up to 130 MB/s and available in capacities from 32GB to 256GB. Additional information on the MasterDrive KX3 can be found
here.
Super Talent actively pursues the latest storage trends in the market and responds by creating storage solutions that meet the needs of customers.