Super Talent SSD Earns Microsoft® Windows® Certifications
Super Talent Technology, a leading manufacturer of Flash storage solutions and DRAM memory modules, announced today that their 128GB SATA solid state drive (SSD) has been awarded the "Works with Windows Vista®" and "Designed for Microsoft Windows X


PRESS RELEASE

San Jose, California – January 22, 2008

Super Talent Technology, a leading manufacturer of Flash storage solutions and DRAM memory modules, announced today that their 128GB SATA solid state drive (SSD) has been awarded the "Works with Windows Vista®" and "Designed for Microsoft Windows XP" logo certifications.
The FSD28GC25M, an industrial-grade 128GB 2.5" SATA SSD, passed intensive qualification testing with both operating systems to become the world's first Windows certified 128GB SSD. Super Talent's SSDs have already undergone comprehensive compatibility testing in the company's Silicon Valley headquarters that includes validation with a variety of motherboards, chipsets, CPUs, RAID controllers, operating systems and applications.
"Our extensive validation testing ensures reliable, compatible products that our customers can depend on. These certifications demonstrate that our SSDs are fully compatible with the world's top two operating systems", commented Super Talent Marketing Director, Joe James.
Super Talent also employed a third party testing lab to subject its SSDs to intensive environmental testing that includes shock, vibration, drop, temperature and humidity tests. The full environmental test report, which also shows the advantages of SSDs over hard drives, can be found here, /datasheets/SSD_Whitepaper_Compilation.pdf

Backed with a three year warranty, Super Talent SSDs are designed and manufactured in the company's San Jose, California headquarters. Super Talent sells its SSDs directly to OEM customers worldwide.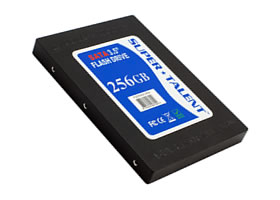 Super Talent Technology Corporation, based in San Jose, California, designs and manufactures a full range of DDR, DDR2, and DDR3 memory modules and Flash based storage devices for computers and consumer electronics. An ISO 9001 certified company, Super Talent utilizes its state-of-the-art factory and leading-edge components to produce award winning products with outstanding reliability. Super Talent is an active member of the JEDEC and ONFI standards bodies, and holds over 200 patents in Flash and DRAM technology.
Microsoft, Windows, and Vista are registered trademarks of Microsoft Corporation. All other trademarks are property of their respective companies.
_________________________