Super Talent's USB 3.0 Express Motile is ready for On The Go devices
Standard USB or micro-USB, we have the solution!
San Jose, California – December 30, 2013 – Super Talent Technology, a leading manufacturer of NAND Flash storage solutions and DRAM memory modules, announces its USB 3.0 Express Motile drive.
The USB 3.0 Express Motile fulfills the rising demand for the consumer sector which is constantly on the move. The ability to access this drive by plugging it into a USB port on a computer or a micro-USB port on a mobile device make it extremely versatile. Capacities range from 8 GB to 32GB and it has read speeds of up to 86 MB/s and write speeds of up to 12MB/s over the USB 3.0 interface.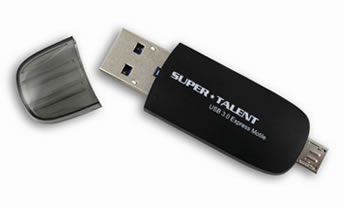 Capacity
USB 3.0 Express Motile P/N
8GB
ST3U8EMT
16GB
ST3U16EMT
32GB
ST3U32EMT
The USB 3.0 Express Motile is backwards compatible with USB 2.0 and 1.1, easy to carry around, and will plug and play in any cell phone running the Android platform. Additional information about the USB 3.0 Motile can be found at
here.